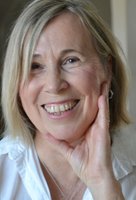 I was born and raised in Munich, Germany.
In 2003 I moved to Norway and have lived at Nesodden ever since.
Jeg elsker å jobbe med mennesker og har gjort det i hele mitt liv.
Jeg er utdannet pedagog og sertifisert consultant facilitator innen Three In One Concepts (2003), og sertifisert Thetahealer (2009).
I have had practice at Nesodden since 2003.
I am a course leader, speaker and write articles for related topics.
I have had strong intuitive abilities. To further develop these, I have worked independently with meditations, energy and vibration work and gone on different courses. I'm retraining on a rule-making degree and taking super-vision lessons. 
How different we humans are, and how we relate to our thoughts and feelings, has always fascinated me. When I work with my clients, it is therefore not so important what I think and mean, but what the individual has faith in. Everyone has the answers in them. I consider myself a tool that helps bring these answers to light.
I also have extensive experience working with children and adolescents.
I look forward to hearing from you.